November 9th, 2023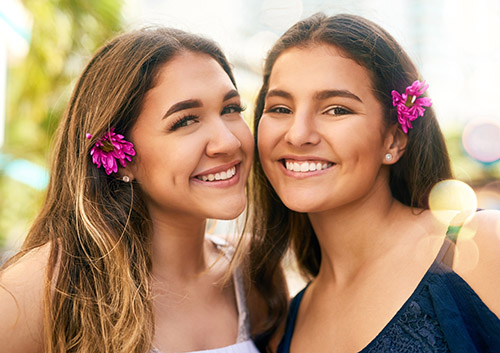 You have a lot going on. School. Sports. Activities. Family. Friends. Teens lead busy lives and have busy schedules, so you need to budget your time and energy. One thing you don't want to spend any of your time and energy on? Dealing with gum disease.
Gum disease most often begins as a reaction to plaque and tartar. The bacteria in plaque produce acids which irritate gum tissue, causing inflammation, swelling, and bleeding. This is gingivitis, the early stage of gum disease.
Left untreated, early gum disease can become periodontitis. Periodontitis is a serious gum infection which can cause receding gums, loose teeth, and even tooth and bone loss.
We usually think about gum disease as something that only older adults worry about. But the unfortunate fact is that children and teens are also at risk for gum disease—and the teen years bring special risks. Why?
The teen years are the most common years for orthodontic treatment. Wearing traditional or lingual braces can make removing plaque from around brackets and wires, between the teeth, and near the gum line more challenging, and gum disease can be the result. When you've been working so hard to create a healthy attractive smile, you don't want to delay your orthodontic progress to treat gum disease.
Less-than-Nutritious Snacking
When you have after school commitments like sports practices, play rehearsals, or work, you probably carry a snack to give you the energy you need until dinner. Popular snacks like energy drinks, chips, or candy bars are common go-to choices, but they contain acids, simple carbs, and sugars which are bad for both gums and tooth enamel.
Increased hormone levels during puberty can make the gums more sensitive and more easily irritated.
Maybe you're not getting enough sleep. Or eating as well as you could. Or you're feeling anxious. Lack of sleep, poor nutrition, and stress can affect your body's immune system and your ability to fight off infection. And if you're also not brushing and flossing regularly, your gum health can really suffer.
How do you know if you have gum disease? Good question! Sometimes the early stages of gum disease aren't obvious. Perhaps you've noticed changes in your gums, such as:
Redness
Swelling
Soreness
Bleeding
Bad breath even after brushing
Any of these changes can be symptoms of gum disease and are a good reason to give our Winnipeg, Selkirk, or Southdale, MB office a call, since time is important when treating gum disease.
Caught early, gingivitis is usually very treatable—in fact, you can often reverse early gingivitis by paying more attention to your daily dental hygiene. If gingivitis is more advanced, or if periodontitis develops, you need professional dental care to prevent serious damage to your gums, teeth, and bone.
Preventing gum disease from ever developing is always best, though, so let's look at what you can do to keep gum disease from becoming a problem.
Keep Up with Healthy Dental Habits
Even though you're leading a busy life, take time for your dental care. Brushing twice a day for at least two minutes per session and flossing once a day take just a bit of your time and are the best way to keep your gums healthy. If you wear braces or have a tendency toward cavities and gum disease, Dr. Brent Nickolaychuk might recommend brushing or flossing more often.
Using the right tools makes a big difference. You should always choose a toothbrush with soft bristles to protect your delicate gum tissue—especially if it's extra sensitive. Too-harsh brushing can damage even your super-hard tooth enamel, so you can imagine what it can do to your gums! Change out your brush every three to four months when it starts to get frayed and worn.
If you wear braces, ask Dr. Brent Nickolaychuk to recommend the best kind of floss to clean between your teeth and around your brackets and wires. The right tools will make flossing a lot easier, and will help you keep your gums healthy and your orthodontic treatment on track.
No Matter How Busy You Are, Treat Yourself Well
Watch your diet. Drinking water to hydrate is a healthy (and inexpensive) alternative to sugary and acidic drinks. When you know you have after-school commitments, pack yourself a healthy snack. After snacking, it's a good idea to rinse with water when you can't brush to remove any food particles sticking around your teeth and gums.
And even though your schedule is demanding, caring for your mind and body should be a priority. If you have difficulties with sleep or stress, or questions about a nutritious diet, talk to your doctor for some valuable tips to make your daily life healthier and more enjoyable.
With so much going on in your active life, gum problems are problems you really don't need. Make room in your schedule now for careful daily brushing and flossing, a healthy lifestyle, and regular visits to Kildonan Orthodontics, and you'll be living that active life with a beautiful, healthy smile!