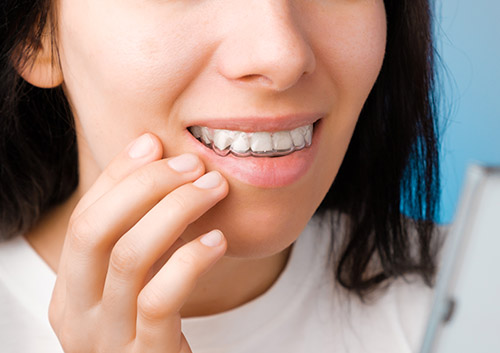 You've worked hard for your attractive, healthy smile, and now you're making sure it stays attractive and healthy by wearing your retainer. Since wearing a retainer is usually a matter of years, not months, it's natural to wonder just how long you can count on that retainer to help you maintain your smile.
That answer depends on the type of retainer you get at our Winnipeg, Selkirk, or Southdale, MB office. A Hawley retainer, a clear retainer, and a fixed wire retainer have different lifespans. Because they each have their own advantages, Dr. Brent Nickolaychuk will recommend the retainer that's right for protecting your individual smile.
So let's look at the average lifespan for different retainers, and, equally important, some of the common mishaps that can shorten that working life.
The Hawley Retainer
This is the retainer most people picture when they think "retainer." Made of wire securely attached to an acrylic base, the Hawley retainer keeps the teeth in place, and can even be adjusted, if needed, to improve alignment. They generally last anywhere from three to ten years.
How can you make sure your Hawley retainer keeps working for you as long as possible?
Keep it in its case. While some damages to these retainers can be repaired, why take a chance? And it's much harder to lose a retainer if it's in its case as opposed to, say, a cafeteria napkin.
Keep it away from your pet. Dogs, especially, are tempted by the taste and smell of saliva, but there are safer, less expensive chew toys out there.
Keep wearing it. Without your retainer, your teeth can shift. Over time, not only will your retainer fail to fit anymore, but you might need to return for further orthodontic treatment. If you notice your retainer is starting to feel uncomfortable, give your orthodontist a call.
The Clear Retainer
Clear retainers look like clear aligners, and, like clear aligners, are almost invisible. Made of vacuum-formed plastic, they're designed for a close, comfortable fit, often around the entire arch of your teeth. Also like clear aligners, these retainers aren't made to last forever. If they become loose, warped, or cracked, they should be replaced. With care, they can last from six months to several years. How to protect them?
Protect your retainer from damage. Keep it in its case when you're not wearing it. You'll avoid losing it, and you'll avoid damaging it.
Protect it from teeth. And we don't just mean pets, although they find clear retainers yummy, too. If you grind your teeth, your retainer can suffer. Clear retainers are not the same thing as night guards, so talk to your orthodontist for recommendations.
Protect it from heat. Hot surfaces like ovens or heaters, hot dashboards, washers and dryers, even very hot drinks can be a problem. (You should only be drinking water while you wear your clear retainer, so that particular issue shouldn't arise!)
The Fixed Retainer
A fixed retainer is a small piece of wire that is custom-fit and bonded to the back of specific teeth to prevent any movement from occurring. Because it's bonded to the inside of the teeth, a fixed retainer is completely invisible when you speak or smile. It can last five years, ten years, and in some cases, even longer. Even though you won't be exposing this retainer to external dangers like hungry pups or the wash-and-rinse cycle, there are still some situations to watch for:
Watch your diet. The same sticky, crunchy, or hard foods that can damage brackets and wires can also loosen a fixed retainer.
Watch your dental hygiene. While cleaning around a bonded retainer can be a bit challenging, not cleaning around it can result in plaque and tartar buildup—and your retainer might have to be removed to clean your teeth.
Watch for changes. If your teeth start to shift, it could mean your retainer has detached from one or more teeth. Ask your dentist to check the retainer's bond whenever you have a checkup.
So, how long will that retainer last? Depending on the kind of retainer you have, if you don't keep it in its case, or if you don't watch your diet, or if you expose it to heat, the answer is—not nearly long enough. Dr. Brent Nickolaychuk will give you the very best tips to keep your retainer clean, safe, and working for as long as possible. Now, it's up to you!