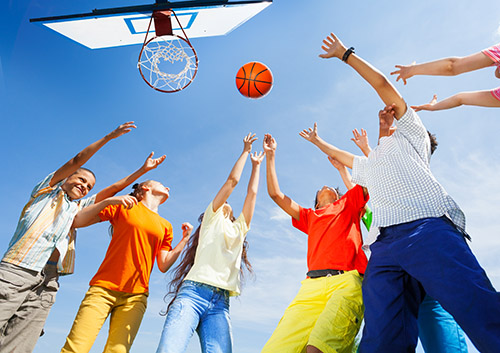 When we think of sports and dental damage, we naturally think of hockey and football. But when it comes to the actual number of dental injuries suffered each year, vying for top seed is the game of basketball.
How is this possible? After all, football and hockey are categorized as "collision sports"! But along with the helmets, shin guards, and padding, these teams quite often require mouthguards—and this makes all the difference. Studies have shown that an increase in the number of players wearing mouthguards means a decrease in the number of oral traumas.
And while basketball isn't considered a collision sport, it is a contact sport. Basketball is a combination of running, jumping, hard surfaces, and solid bodies. And elbows. We can't forget elbows. So a broken or even a knocked out tooth isn't, unfortunately, all that unusual when bodies in motion meet hard surfaces—or other players. But there are other dental dangers as well. Besides tooth injuries, oral injuries can involve:
The ligaments and bone structures holding teeth in place
Bones in the upper and lower jaw
Delicate gum, tongue, and mouth tissue.
You need a solid defensive strategy to reduce the severity of oral injuries or to prevent them from happening altogether, especially when you wear braces. The best play in your playbook? Wearing a mouthguard!
Choosing the right guard is key. There are three common options, and you can choose the model which works best for you:
Stock guards, which are ready-made guards in pre-formed shapes and sizes. You can buy them over the counter in drug stores and sporting goods stores. Because these guards aren't shaped to fit your teeth and mouth specifically, they can be less protective (and harder to speak around).
"Boil-and-bite" guards can also be purchased, and can provide a closer fit. After warming the guard in hot water as directed, you place it in your mouth and bite down firmly to mold it to your teeth.
Dr. Brent Nickolaychuk can make you a mouthguard that is designed and crafted specifically for your use. Because this guard is custom-fitted, it provides better protection for your teeth and mouth. Patients often find custom guards much more comfortable and more durable as well.
Mouthguards are most effective when you wear them on the court and care for them off the court. This means avoiding a few flagrant fouls.
All those moist nooks and crannies inside your mouthguard are a perfect environment for bacteria, mold, and plaque buildup. You should clean your mouthguard carefully every time you wear it, and let it air dry before popping it back in the case. Ask Dr. Brent Nickolaychuk for advice on getting your guard and its case their cleanest.
Failure to sub out in a timely fashion
Mouthguards don't work if they're damaged. If you notice any warping, breakage, or jagged or sharp edges, contact our Winnipeg, Selkirk, or Southdale, MB office for a replacement. If a guard doesn't fit you properly, it doesn't protect you, and sharp edges can irritate or injure delicate mouth tissue.
Your mouthguard protects you, so don't forget to protect it! Keep your guard in its case when you're not wearing it to save it from dirt, damage, and disappearance.
If you know your basketball, you know your guard game can make all the difference. Even though a mouthguard might not be mandatory on your team, that doesn't mean it's not essential. Remember that basketball is a contact sport, and protect your teeth, your mouth, and your braces with a mouthguard whenever you play.