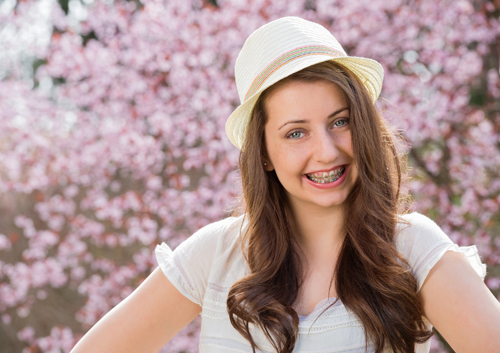 While it's normal to feel self-conscious, there is no reason to avoid photos just because you wear braces. Many people wear braces and you do not need to be embarrassed about them. There are also ways you can enjoy your photos without hiding your smile.
Make it Fun
Dr. Brent Nickolaychuk and our staff offer rubber bands for braces in a wide range of colors. Choose your favorite color and wear it with pride. You can mix and match your colors too. For Valentine's Day, try alternating red and pink bands. For the Fourth of July, use red, white, and blue!
Bands are also available in neon colors and glow-in-the-dark designs. Your imagination is the only thing holding you back. You might want to avoid using dark green bands, though. It makes it look as though you have broccoli stuck in your teeth. Gross!
Make them Disappear
If your braces still really bother you in photos, technology can quickly solve the problem. A photo-editing program, or even a simple paint program, can easily erase your braces. Zoom in on your teeth, pick your natural tooth color with the dropper, and paint your braces away.
If you have a significant amount of metal in your braces, try to avoid close-ups with flash. The flash can reflect off the metal. The important thing to remember is how good your teeth will look and feel once your orthodontic work is complete. Dr. Brent Nickolaychuk and our staff can also show you options for braces that are not as visible as the traditional style.